New book:
Numeric Computation and Statistical Data Analysis on the Java Platform (by S.Chekanov)
710 pages. Springer International Publishing AG. 2016. ISBN 978-3-319-28531-3.  http://www.springer.com/us/book/9783319285290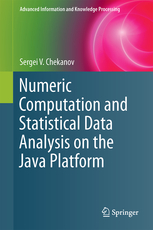 About this book: Numerical computation, knowledge discovery and statistical data analysis integrated with powerful 2D and 3D graphics for visualization are the key topics of this book. The Python code examples powered by the Java platform can easily be transformed to other programming languages, such as Java, Groovy, Ruby and BeanShell. This book equips the reader with a computational platform which, unlike other statistical programs, is not limited by a single programming language.