Press Release -- New product puts business intelligence in the hands of many and makes data easier to work with.
Conway, NH (PRWEB) March 17, 2010 -- Rapid Insight Inc. today announced the launch of a revolutionary new software technology for working with data. Veera, available as a release candidate since January, is the next generation of Rapid Insight® business intelligence software. Building upon an earlier Rapid Insight product, Data Integration 2.0, Veera's enhanced toolset empowers users to overcome common barriers to data access, ad-hoc analysis, and report generation, providing organizations with armies of data-driven decision makers.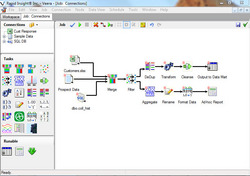 Veera workflow process
"Veera has provided us with optimum flexibility in providing information to our customers and has made it significantly easier to manage our data warehouse reporting initiatives," said Richard Ward, a Business Analyst with the New Hampshire Department of Health and Human Services. "Within the first hour of loading the software, I was connecting to our Oracle and Access databases and creating reports. Within the first week, it changed the way that we were looking at our data. Within the first month, it opened up new possibilities that we hadn't even thought of prior to our using the software."
Powered by Rapid Insight Dataflo3G™ technology, Veera's drag-and-drop analytic process builder enables users of all abilities to quickly produce reports and create analytic datasets by merging, aggregating, cleansing, and transforming data from formats as disparate as Excel, Access, SQL Server, Oracle, MySQL, and text. Data and reporting requirements are constantly changing. Veera makes it easy for non-programmers to quickly change yesterday's processes to meet tomorrow's needs – all without fear of corrupting the original data.
"Whether for ad-hoc analysis, enterprise reporting, or complex predictive analytics, data can be a pain in the neck to work with," says Michael Laracy, Rapid Insight's Founder and CEO. "There has always been a large, unfilled gap between the complex analytic tools that require teams of programmers, and the simpler technologies like spreadsheets and pivot tables which enable large numbers of users to analyze their data. By filling this gap, we plan to change the way that people and organizations utilize their data. Ultimately, this will have a significant impact on the speed at which companies are able to make data-driven decisions. Rapid Insight aims to increase the analytic capabilities of organizations as simply and affordably as possible."
"Data reports no longer haunt me in my sleep," says Scott Alessandro of the MIT Sloan School of Management. "I can give a data answer as quickly as my Director can change the question. She thinks I'm brilliant."
About Rapid Insight Inc.
Rapid Insight Inc. is a leading provider of business intelligence and automated predictive analytics software. With a focus on ease of use and efficiency, Rapid Insight products enable users to turn their raw data into actionable information. The company's analytic software simplifies the extraction and analysis of data, enabling clients ranging from small businesses to Fortune 500 companies to fully utilize their information for data-driven decision making. Founded in 2002 in Conway, New Hampshire, Rapid Insight is a privately held company with clients and partners across the nation. For more information, visit
www.rapidinsightinc.com.
###